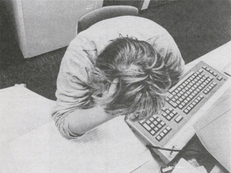 Just because a person publishes a book or two or even three doesn't automatically mean that the person is a TRUE writer. And just because a person has never published even a single book doesn't mean that the person is automatically NOT a true writer.

While it may seem as if everyone today is a writer, a TRUE writer is actually a rather rare breed. A true writer is a highly dedicated and extremely passionate individual who, most importantly, is completely miserable most of the time.

Of course, that's a bit of an overgeneralization. To find out if you truly are a true writer, read through the following list of traits and characteristics. If you are able to identify with all or most of them, I regret to inform you that you are indeed a true writer.

10) Your suicide note is so well written it gives you enough new hope and confidence in your craft to call off the attempt.

9) Whenever a great idea for a book comes to you and you have no way to jot it down, you scrawl it on your clothes in your own blood.

8) You throw a surprise birthday party for your favorite writer even though he/she has been dead for decades.

7) You've spent years cursing the emergence of e-books. Yours will be available next month.

6) When asked, "What do you do?" at parties and get-togethers, you respond with, "I'm a writer" or "I write" or "I work with words." When asked to be more specific, you respond with, "I wait tables" or "I live off my spouse."

5) You're convinced that the reason you're alone most of the time is that it's the nature of a writer's life and not the fact that you're a moody and pretentious ass.

4) Dressing up for work entails exchanging your dirty tee shirt for a less dirty one. Casual Fridays entail wearing nothing but your significant other's underpants.

3) You absolutely refuse to give up control and put your novel in the hands of a big literary agent or publisher… unless one asks you to.

2) You are not E.L. James.

1) You don't give a damn that 80% of all published books fail – you are a writing warrior. And very bad at math.


If you have some additional "ways to tell you are a true writer" you'd like to share, get your OWN damn blog. Just kidding – feel free to list your items in the "Comments" section below.
---
---