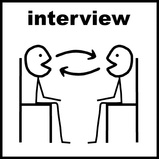 The writing world is fiercely competitive. As a novelist, getting interviewed by important figures in publishing is no simple endeavor. At least that's what I've
heard
– I don't like difficult endeavors and thus I haven't actually even
tried
to secure such an interview. Instead, I recently used vodka to pay a friend to ask me a few questions about my fictional – I mean
fiction
– career. And yes, that friend was
myself
.
Here's how it went down:
Why did you become a writer?
I was born with the innate
in
ability to shut up, thus I needed a (somewhat) healthy outlet for my words. I've given professional public speaking a whirl, but audiences struggled to understand what the hell I was saying because I talk too fast. Plus, I often got distracted by shiny objects in the crowd. So writing is a natural fit for me. (A more traditional career isn't really an option – I'm pretty much unemployable due to my moodiness and my genuine disdain for team-building, motivational posters and commercial carpeting.)
Now that you are a published novelist, do people come up to you in the street or at restaurants?
Despite me posting pictures of myself and my book covers all over the Internet and on telephone poles, café bulletin boards and neighbors' houses, people totally leave me alone when they see me in the street. I guess they respect my privacy. People
do
often approach me in restaurants, but it's only to take my order or refill my water glass.
Who are some of your favorite authors?
I'll answer that like this: If my house ever caught on fire, after saving my wife and my daughter and my cat and my vodka
,
I would risk my life to save my books by Dostoevsky, Camus, Kafka and Nabokov. I would risk second-degree burns to save Vonnegut, Palahniuk, Chabon, Delillo, Bukowski and (Cormac) McCarthy. I would risk first-degree burns to save Faulkner, Joyce, Roth, Sartre, Nietzsche and Seuss. And I would risk getting a little smoke on my clothes to save Woody Allen's short stories.
What do you hope readers get/got out of your first novel, Notes on an Orange Burial?
I want them to empathize with my unstable protagonist Jona more than they fear him. I want them to cheer him on even when it appears he should be institutionalized. Most of all, I want them to laugh a lot, cry a little, and realize that poetry can be not horrible... and that kidnapping is wrong. (You can read more about
Notes on an Orange Burial
here
.)
What are you working on now?
I recently completed my second novel,
The Exit Man,
which will be available soon – this coming spring. It's a dark comic thriller about a party supply store owner who leads a secret life as a euthanasia specialist. He helps terminally ill individuals end their lives peacefully and with dignity using something he has ready access to: helium. I know, I know, he sounds disturbed and morbid, but he really is a good guy once you get to know him. It's the perfect book for people who like
Dexter
and Dr. Kevorkian. (You can read more about
The Exit Man
here
.)
And finally, if you were to ever win the Pulitzer Prize or the Pen/Faulkner Award, who would you thank during your acceptance speech?
I would first thank the collie I grew up with, Cinnamon, who has been dead for 30 years but who always truly believed in me. I'd also thank my parents, my English teachers and writing coaches, my wife, my brothers, my daughter, and the kid who hit me in the head with a fastball in little league and damaged my cerebral cortex just enough to enable me to come up with the kinds of stories I write. Actually, I should probably thank that kid even more than I thank my dead collie. Oh yeah, and I'd certainly thank all my
readers.
You don't win literary awards without those fantastic people behind you.
Enough about me. In the next installment of "Scrawl Space", I'll be interviewing Eli Edelmann – the protagonist of
THE EXIT MAN
. Eli's much more interesting than I am, and 89% more fictional.
---
---